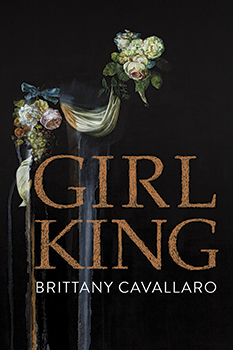 Girl-King
Brittany Cavallaro
University of Akron Press
2015
76 pages
Brittany Cavallaro's debut collection, Girl-King, dwells in the difficult terrain of physically and emotionally uncertain adolescence. Her speaker, both endangered girl and empowered king, shapeshifts between identities and subject positions, while deftly guiding us through caverns of gender, mythology, and reconsidered history. The Girl-King's voice—vulnerable, fierce, and semantically precise—leaves us fearing for "the unbroken spine / and a pliable binding," yet worshipping her authority as "Her garden throats howled & the white foxes […] / hid in her dirt." The overlapping narratives and emphasis on retelling allow Cavallaro's speakers to divide their time between inhabiting and encroaching on the sinister, while unsettling line breaks keep us off-kilter and pondering the divisions of identity that position her Girl-King as uncomfortably familiar, yet difficult to know.
The title serves as an either/or—a merging of girl and dictator—and Cavallaro's ability to delve into the intricacies of intimacy and consent without sacrificing lyrical quality for the sake of narrative is solidified in "Magician's Girl." Providing us with flickers of the king in the acted-upon and acting "Magician's Girl," Cavallaro's speaker is aware of the tension between integrity and spectacle, and bridges the gap with the declaration, "Here / are my man's hands. / Here is my girl's mouth, speaking—." The mouth, later, is muted in "The Virgin Disambiguates," becoming "a harmless cocktail," while the title poem offers the conflict of "the woman / whip-cord thin. And the girl underneath her chair, her hatchet." The same menacing, disconcerting landscape characterizes "Superstition," an area where "clouds move like scissors subtracting sky" as the witchery of "the belladonna pressings / in their leaves, dried larkspur from / the cellar ceiling" offers no talisman against threat.
Girl-King's second section, "The Resurrectionists," intensifies the concept of the dual body through a reclamation of the victims of Great Britain's 1828 Burke and Hare murders. The poems, intent on salvaging the identities of the murdered women, crouch in dark alleys, slinking between supply and demand, as Cavallaro's lingering lines keep us clutching the pages with a sense of the various speakers' endangerment. The section's first poem, "J.J. Audubon on His Stay in Edinburgh," considers the ornithologist's relationship to Robert Knox, the notorious physician who purchased corpses for medical research. Cavallaro's use of a morbid 19th century skipping rhyme about Knox, Burke, and Hare is skillful and subtly incorporated, particularly the linking of the traditional line, "Glad to leave this charnel house" to her own "Glad to have my flowers / in my homebound bag." Cavallaro's seamless tethering of the 19th century to contemporary women's concerns adds a necessary chapter to representations of sexually deviant bad girls and their violent fates.
The third section, "Mirror Songs," takes up the narratives of Berryman's Dream Songs reconfiguring Berryman's difficult relationships with his women. This theme of restitution and retelling extends to Girl-King's concluding section, "City Where No One Is From," an area populated with the grime of bad company, state fairs, and "Censored History." Cavallaro's collection is rife with trap doors and breathtaking imagery; her poems seethe in a haunted space where history poisons triumph and beauty counteracts tragedy. Like Kate Greenstreet's Young Tambling, based on a Scottish ballad detailing a relationship of questionable consent, Girl-King examines the connections between youth and power, as Cavallaro's sad and lovely navigation of the treacherous area between nightmare and nightlife brilliantly harnesses the forgotten and the familiar, leaving her captive audience confined, but unwilling to escape.
--Brew Wilson-Battles

Brew Wilson-Battles is a recent graduate of the Northeast Ohio Master of Fine Arts program. When she's not unearthing grime for use in upcoming poems, she can be found tending to her clowder of mad cats and teaching at Shawnee State University.