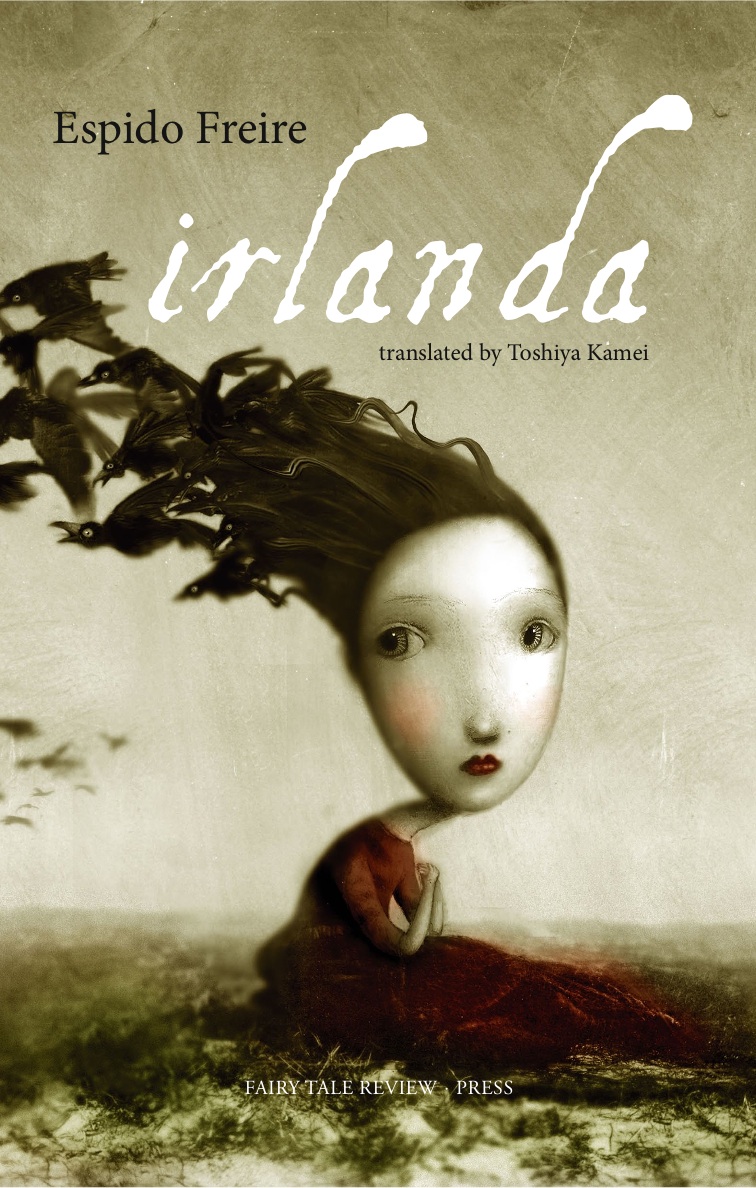 Irlanda
Espido Freire
Translated from the Spanish by Toshiya Kamei
Fairy Tale Review Press
2011
$10.00
151 pages

In contemporary fiction, the term fairy tale has served time in exile. It was deemed a genre with flat characters and foreseeable endings, but Espido Freire banishes these dismal perceptions with her début novel Irlanda. By skipping on the outskirts of predictability, she expands the reader's capacity for wonderment. The protagonist, Natalia, is not a holy embodiment of all virtues, but rather she prides herself on her unstoppable imagination. Freire's refreshingly unusual characters have helped her become one of Spain's most celebrated authors, and the French translation of Irlanda won the Millepage Prize. Published by The Fairy Tale Review Press, it is shocking that this novel is not readily found in bookstores and remains largely unheard of in the United States.
The story focuses on Natalia, a clever girl who bursts with dimension, intrigue, and thoughts that blend darkness and ethereality. When her cousin finds her in a place they should not be Natalia reflects, "I saw her silhouette against the light, outlined against the brightness, and I thought this was exactly the place where we should be, an undetermined place between heaven and earth, like angels. And like demons…" Natalia is shadowed by the death of her younger sister, Sagrario, and haunted by nightmares of a ferocious turtle. Her home is imbued with a sorrowful gloom, and her Aunt yearns for her to come to the country estate and spend a lovely summer with her cousins Roberto and Irlanda.

Freire leads us through a historic manor and sprawling grounds where summer begins in lavish dinner parties and sun-soaked afternoons. Though the world Natalia enters has no brave knights or talking mirrors, she frames common circumstances with the dark whimsy of her imagination. Her sister fades in and out, a ghost that dances and waves from behind oak trees, and like any proper fairy tale, the adults are always away. Irlanda who behaves most like a grown-up makes her play for power. The climax is set in the top of a crumbling chapel where Natalia opposes Irlanda, and her reign.
Natalia, a misshapen puzzle piece, does not neatly fit into the picturesque scene laid before her. Written in first person, the reader gains visage into Natalia's thoughts and as pages turn, disturbed revelations unfurl—such as her animosity toward animals. The ring of ghoulish shadows that stalks Natalia expands and there is no magic portal to help her escape. In her words, "It was useless to take refuge in nostalgia, because I could never turn back time, even though the clock face was round. The world, fear, stretched forth under the window like my new domain."
In a few parts, Freire's captivating prose becomes murky and nonsensical, and whether small areas were lost in translation it is hard to say, because as a whole Toshiya Kamei does not lose the splendor and inventiveness of this original tale. Her dream-like style of writing carries the reader like an enchanted carpet into a realm so vivid, so unique, once finished one foot will be trapped on the country estate where rules dissolve like black birds in the night. Freire is well regarded by the French and Spanish, and it seems regrettable that her work should not also be welcomed here in the United States. From beginning to end, Irlanda pulls the reader into a fantasy so tangible each moment must be tasted and savored.
--Juliana Amir


Juliana Amir is the author of Midnight Magic. She is currently enjoying being a student in the NEOMFA, where she studies fiction.