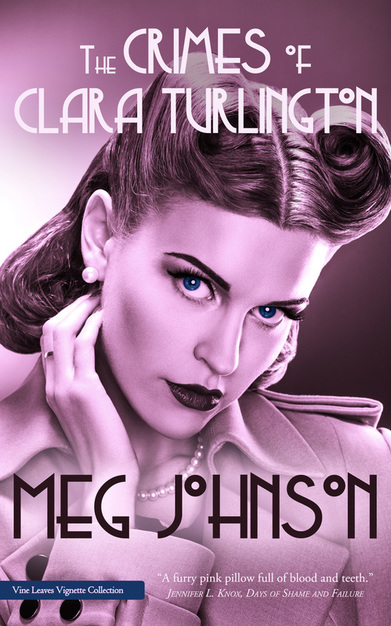 The Crimes of Clara Turlington
Meg Johnson
Vine Leaves Press
2015
69 pages
Right away, Meg Johnson's speaker declares, "I'm Not a Robust Girl." This first poem title is absolutely fitting, speaking strongly and loudly to this book's intentions. The Crimes of Clara Turlington is not apologetic. It asserts itself, eschews propriety, and though the speaker "…spends / so much time blowing / her nose, [she] get[s] a lot of dates." Johnson's poems come about as if in confessional, though an altogether new form of it. In "Confession" as the speaker "just [doesn't] see / how some dude in the shadows / can possibly help this situation" she requests an audience with, rather, a bag of jellybeans or a butterfly. The cunning female voices behind these poems are at once vulnerable and empowered, loudly declaring their flaws, ideas, and schemes while still remaining deeply human.
The Crimes of Clara Turlington is sincere, surprising, but also quite humorous. The speakers of the poems have spunk and are unafraid to ask the tough questions we all have at the backs of our minds. Take, for instance, "Faking it" which begins by posing to the reader, "Do you ever feel like faking / your own death just so you don't / have to read your work emails?" Though this poem begins with a laugh it turns itself into a question of grieving. When the speaker states that she is sure, after faking her own death, that her parents would hide her in their home, she also acknowledges the general response from the public who believed her truly deceased: "…They've really lost it / people would say with pity / when they saw my parents / getting three dinners to go / from the local barbecue joint. / Trying to feed a ghost." It is not until this last line that our laughter is cut short, that we go back and trace these events to their surprisingly sad end. What holds this is reality, while what makes this interesting is timing. The hypothetical hyperbole of stress is very real, but the hypothetical grief of losing a child is even more real, bitingly so.
The poem "Ex's Exit" also begins with a humorous edge: "Boom bang bang goes the gun / I shoot. It sounds like the intro / of a pop song." Once again we are left laughing at the seeming absurdity, yet undeniable truth, of this statement. Though, we are in turn shaken by the turn this poem takes, this time to violence rather than grief. "I didn't want to kill him over / and over again. I never thought / this would be my reoccurring / fantasy. I didn't think it would / feel sexy and clean like / underwear with ruffles." Though, it is apparent that this violence was the result of a struggle to assert power in a powerless situation, the speaker does not make excuses and lets the "bang bang boom" of the gun speak for her in the end as in the beginning, reveling in the violence, the asserting of herself, in a romance gone off-the-rails.
Also noteworthy is the reimagination poem "The Little Mermaid Gets Her Legs." This is where we truly see the significance of the female speaker assertion of power and voice, perhaps due to the fact that we are privy to their alternatives in this particular popular narrative: "Let's be honest. After getting legs, the last thing Ariel would want to do is track down some guy she had seen a couple of times." In the universe of Clara Turlington, Ariel is both prince and princess, naive and self-assured, master of her own destiny, "After all of the bed jumping and orgasming, she'd order room service. She still wanted to read all the books at her local library and a part of her still wanted to find Eric. But not today. She had meat and cable channels."

--Holly Brown
Holly Brown lives in Akron, OH where is she an MFA candidate at the NEOMFA. Her poems can be found/are forthcoming in decomP, Jellyfish, and The New Old Stock. When she is not writing poems, she is often eating and writing about said eating in her food column as "The Wanderer" for The Devil Strip.