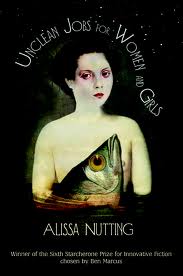 Unclean Jobs for Women and Girls
Alissa Nutting
Starcherone Book
2010
$18.00
Alissa Nutting's debut collection, Unclean Jobs for Women and Girls, is a boiling pot of contradictory elements—the contradictions of being alive, the contradictions of having bodies and being made of meat, and the contradictions in being a woman.

I like organization and categorization, in some ways. Unclean Jobs refuses all of them. Sometimes, the stories fall into utter chaos, but it's a chaos that's tracked by the movement of these characters, the morphing and the mutilation of their physical beings. The neat trick of the characters, their safety blanket, in Unclean Jobs is how, by the end of their stories, many of them try to escape back into their own minds, back into their imaginations, which is exactly what these stories are doing from the beginning. They are exposing the contradictions of being stuck inside a meat-body by giving themselves imagined bodies that are somehow less clean than their real bodies.

Many of these characters retreat into their imaginations because their jobs, loosely speaking, abruptly oppose what they really want, which is not, as Ben Marcus (who selected Nutting's book as the winner of the Sixth Starcherone Prize for Innovative Fiction) blurbs, "to be loved" but rather the simple dignity of having the rights to their own bodies, or at least the space to explore what it means to be inside these bodies. These stories speak to each other, explore the contradictory feelings of being alive, the vanity of wanting to be viewed and admired ("Ant Colony") versus cosmically unattainable privacy ("Porn Star"), the different forms that love takes ("Bandleader's Girlfriend," "Deliverywoman," "Hellion," "She-Male"), and the question of motherhood ("Teenager," "Dancing Rat"). These stories cringe and belch with laughter and strangeness.

It is hard, however, to feel grounded in these stories. This is intentional, the lack of defined boundaries being what helps capture the wild nature of being in these bodies. At the same time, the lack of rules conflicts with the traditional makeup some of these stories have plastered on them: characters with names, dialogue, etc. Luckily, none of these stories move into the third-person, the observing eye, because to have to "see" the characters would have been too dire a contradiction for us the readers to ignore. These protagonists are all born of their own imaginations, dictated by their imaginations, even when they are captured and entrapped by their bodies.

Nutting is an imaginative, forceful, sure-sighted new writer, and the stories in Unclean Jobs, the rigorous compilations and collages of nightmare that they are, will make you twitch, look away, burp, and finally submit, much like their characters.
----

Michael Goroff is a contributing editor and small press fiction staff reviewer for Barn Owl Review. He lives with his cat in Akron, Ohio, where he is currently pursuing an MFA in Fiction through the Northeast Ohio Master of Fine Arts program.
Also by Michael Goroff:

Review of Volt by Alan Heathcock

Review of Look! Look! Feathers by Mike Young

Review of Us by Michael Kimball
Review of How They Were Found by Matt Bell