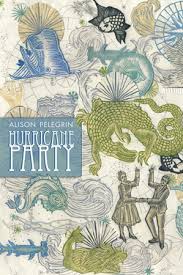 Hurricane Party
Alison Pelegrin
University of Akron Press
2012
63 pages
$14.95
Water. Many poets have addressed the subject. Alison Pelegrin's third collection of verse, Hurricane Party, seeps the element further into the consciousness of American literature. Her poetry assumes both the physical and psychological identity of the Mississippi Delta, with all its swamps, humidity, and menace. Add Katrina to the mix, and Pelegrin captures the atmosphere of August in the Bayou. Her closed poems form the unbroken surface of Lake Ponchartrain. Linear constructs stretch like meandering rivers, while villanelles lap flood-like on the pages.

"River of Voices" opens the collection. The speaker explores the confluence of a family's Katrina stories. She explains:

. . . A bystander would think
we took this on for fun, this reunion
of family at the long table after the meal
is cleared, telling our stories, which are one
story, the same story over and over again, . . . (3)

Everything runs together in the tales. Details are swept in the rush of collective memory. Hurricane Party is a gathering of experiences common to the region's modern residents. In Pelegrin's piece "Louisiana," the speaker notes:

Fantastical sinking state, of a boot the heel-toe-heel
invisible, one football field a day drowned
to sop the Mississippi's might slop. (4)

The poet's voice reflects the area's music, communal recollection, and vernacular, creating a single, swirling volume of Confederate flags, pit bulls, pelicans, copperheads, and highway mowers.

Several poets have addressed Hurricane Katrina. Patricia Smith (Blood Dazzler) and Katie Ford (Colosseum) published highly regarded volumes on the subject. While Smith's speaker assumes the persona of the storm, and Ford juxtaposes the horrors of the storm with similar images of disaster (such as Beirut's civil war), Pelegrin, a Louisiana native, attaches herself directly to the state's people, history, and beliefs. She presents an experience shared by family and strangers. Hurricane Party addresses how the disaster affected local residents, not the dynamics of the storm itself. The poet crafts the speaker's voice to create a Cajun every-woman representing the region's unique physical and human landscape. She is free to explore how Katrina and similar misfortunes disrupted them.

Weather surges through the book. Pelegrin illustrates this point powerfully in "Our Lady of Prompt Succor:"

Oh, virginity! – A sin to even think it – me, Mary,
and a Brother Martin boy in the backseat
making our own weather – forecast fog,
and your tears the rain rising as steam from the street. (26)
As the volume continues, however, the weather transforms from the manufactured clouds within a steamy car to the fury revealed in "Hurricane Party:"

No way in hell the sky would do me wrong.
Even with the weatherman keening
in his yellow slicker, it just doesn't sink in. (43)

The reader can detect the speaker's sense of betrayal, how nature, even the landscape, has somehow turned against her. The disruption is fundamental, as indicated in "Praying with Strangers:"

Wish I could be funny again, like the old me
wild child with food and music on the mind,
because I am worn out with bringing

nothing but needs to the hands of the Lord
beginning that day I packed the kids in the car
for a head start against The Hurricane. (45)

Pelegrin capitalizes "The Hurricane" here as if it is an actual deity. Not a Prayer Answerer, but a terrible, vengeful God intent on drowning the world.

Survivors of a natural disaster often note abrupt quiet immediately after the event ends. Canadian poet Julie Bruck juxtaposes violence with stillness in her 2012 poetry volume Monkey Ranch. Similarly, Pelegrin stuns the reader after "Praying with Strangers," starkly portraying post-catastrophic silence with "The Day the Music Stopped." Here, two years transpire between the storm and a silent march of musicians protesting the area's sluggish recovery:

Last year a mock funeral on this day.
Pine box for Katrina cut loose to the dark,
Then Dixieland jazz in the streets of Treme.
This year we can't make the blues go away.
We've been down so long that music feels like work.
Black sash for the marshal – we can't play. (46)
Pelegrin's speaker detects an insidious, transformative power in Katrina's aftermath. The normally solid line dividing people and animals blurs. In "Shadow Ode," which addresses the post-disaster opening of New Orleans' zoo, she closes the poem stating:

After Katrina we lined up there on reopening day,
camera ready, and shadowed by the press.
It was the day after Thanksgiving, and me still numb,
grieving like an animal with eyes that looked
nowhere. My boys were toddlers in a wagon then,
clapping their arms open and shut to make alligator shadows. (50)

As the volume closes, the speaker attempts to extricate herself from her animal-being in "Stupid Praise," declaring: "I quit. No more a guard dog of damaged goods / chained in the yard, drinking from tadpole puddles . . ." (57) However, the final piece, "Tabasco in Space," reflects not healing but further disjuncture:

Long have the McIllhennys been men in arms,
and Tabasco has always travelled with them,
from saddlebags, to officers' tables,
to the final frontier – Tabasco in space,
floating from the dripper to the spaceman's lips. (59)

Hurricane Party, with its formal brilliance, somber, sometimes outrageous, subject matter, and distinctive colloquialisms, confirms Pelegrin as a Southern poet of the first order, placing her alongside fellow Louisiana master Martha McFerrin. Her ability to combine humor and regional quirks with the awful specter of Katrina makes this book highly readable and entertaining. More than a regional collection, however, Hurricane Party highlights the universal struggle of a people to survive, both their history and recurring disasters. Anyone interested in the ongoing, oddball triumph of the human spirit will find a welcome respite here among, as Pelegrin explains, "me and mine, who'll be hydrated and fed, / dressed in desert fatigues, and off the grid" (60).

--Paul David Adkins

Paul David Adkins lives in New York and works as a counselor. He served in the US Army for 21 years.
Barn Owl Review interviews Alison Pelegrin HERE.