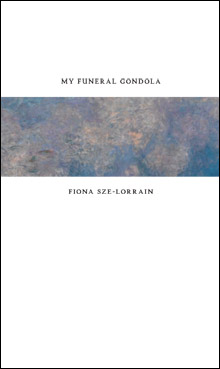 My Funeral Gondola
Fiona Sze-Lorrain
Mãnoa Books and El León Literary Arts
2013
57 pages

What makes Fiona Sze-Lorrain's My Funeral Gondola so moving is her simplistic style paired with her emotionally familiar subject matter. Beginning with the title itself, this collection is concerned with death and how our imaginations make dying more colorful. This is a theme that floats the reader along these poems. In the frontispiece, "Sixteen Lines, Autumn 2010," Sze-Lorrain's speaker is concerned with how time changes perception: "This autumn, death gets even smaller. / […] Look: a long sundown. // No more black and white." Death as a theme is made a little lighter, and it is very important to consider the rest of Sze-Lorrain's poems through this brighter lens.

The next poem in the collection, "Notes from My Funeral," cements a style of note taking that drives the rest of Sze-Lorrain's poems. The first line of the poem reads, "Faces." A later line reads, "The sound of wild gods drumming in my heart." This sentence variation is daring on Sze-Lorrain's part, and it is successful in keeping the reader surprised and delighted by the musicality of each piece, which is another important theme throughout this book. The note taking is so successful here that I am startled by the moment when the speaker holds a mirror between us in the poem's final lines: "The honor of your presence / is requested at your own funeral / reception. RSVP." Sze-Lorrain's speaker teaches us to embrace imminent death not because of morbid curiosity, but in pursuit of a Keatsian beauty and truth, including acceptance of our own selves.

In "My Nudity," Sze-Lorrain's speaker is concerned with living beauty. The speaker's early consideration of death removes any barriers that might make the speaker (or readers) shy away from frank discussion of the body:

Before this mirror, I am my painter,
realizing that bareness
opens
and never shuts.
What is pride? The image inside us.
Thank you, mole,
for behaving like an ink
drop, spreading
invisibly
from a visible site,
a hole
that trembles and tickles
from inside.

In this poem, the body has become a noteworthy piece of art similar to the other works of art Sze-Lorrain alludes to throughout the collection. More importantly, the speaker is capable of creating not the body itself, but a perception of the body that is gracious and uplifting.

The return to death as primary subject matter in the next section of the book, "Odd Spirits," is even more profound because of the speaker's consideration of another person's death in "After great pain, a formal feeling comes—": "When our son died, we kept the ghosts in mind, baking cakes for guests who sat like cats through the wake." This outward turn is clearly purposeful once the reader arrives at the final poem of the book, the spectacular "Return to Self" that draws from each theme Sze-Lorrain previously introduced. The images here make this a truly circular collection: "To centralize or to italicize. There is no color. // Some of my friends write from a prison in their minds. I am happy and complete sentences. They ask me why. // The bigger your mole looks in the mirror, the more your body parts with lofty ideas." A note at the beginning of this poem tells the reader that these images are not in order of importance, which is telling of this entire book. Certainly each piece is of equal importance, but the early fixation on death is telling of a kind of reverse chronology where Sze-Lorrain begins at the end to teach her readers something moving about themselves.
Sarah Dravec is a graduate student in the NEOMFA in Akron, Ohio, where she studies poetry. She is a poetry editor for Barn Owl Review. Her work has appeared or is forthcoming in And/Or, Blast Furnace, Bone Bouquet, Dressing Room Poetry Journal, *82 Review, and others.
Also by Sarah Dravec:

Review of The Forever Notes by Ethel Rackin

Review of Glass Armonica by Rebecca Dunham

Review of Vivarium by Natasha Sajé