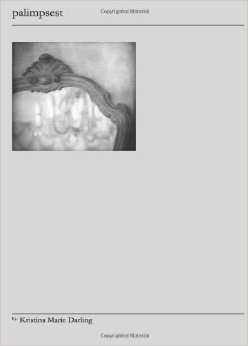 Palimpsest
Kristina Marie Darling
Patasola Press
2013
$12.00
36 pages


Palimpsest is a chapbook of fragments that tells a haunting story of loss. The main character, C., wants to preserve the presence of a lost love. Kristina Marie Darling allows readers to piece together C.'s story like an historian by offering fragments of a life after loss. Some of the means of storytelling in this chapbook are photos, fragments of letters and miscellaneous text, and notebooks formed into short poems. Some of these texts are woven together, but most are placed in their own sections.

One of the most fascinating sections is "A History of Transcendence: Glossary of Terms." Definitions are of course necessary when a person or reader enters a world in which she is not accustomed, and the words defined lend themselves not to the physical world, but that of, as Darling names it, "transcendence." Take, for instance the definition of light:

Synonymous with the strange or otherworldly. Consider the
graceful line of the beloved's white cuff, its fabric luminous against
a marble staircase.

The narrative never leaves the spiritual world or that of memory. We are caught here with C., where light is "strange" and exists not on earth but on another plane where spirits move in and out of houses. We never leave the beloved, either, remembering along with C. his "white cuff" and its placement within a specific memory. The word travel means "displacement from the beloved." Bird stands as "a metaphor for the more ethereal qualities of the heart." Each word in this "glossary" connects itself to the past which the narrative cannot leave.

The objects that are defined in the book allow the protagonist to hold on to and preserve the energy of the deceased. In the final section, "Endnotes to a History of Electricity," C. studies currents of electricity throughout the old house in which she once lived with her beloved. At times the house seems to be left to itself, almost abandoned, and she severs the currents to determine whether she feels the presence of electricity or whether it is really her lost love: "At this point she began cutting the wires, which were tangled behind the walls of the old house." In this section, Darling uses a series of notes to define C.'s investigation. One such note refers to a notebook as an historical document where C. maps what occurs in the house:

The notebook (c. 1928) describes her attempts to document
this "presence" within their former home. Its walls were said to
house an intricate machine. Every page is filled with the most
elaborate diagrams.

Further into the section, Darling refers to "an early twentieth century film" and a fragment of French to further diagnose what C. experiences in this house. Every note links itself to the next to create a narrative that ends with the protagonist singing along with wires that "crackle and buzz." It appears the dear one has not departed, nor does C. wish him to.

Darling gives us something close to divination or séance in this book as we attempt, with the main character, to preserve a loved one. It is a haunting book, fragments of text mingled with black and white photographs of curtained windows and lighted chandeliers. This book is half letting go and half preservation, a history of loss in prose and poetry, a mixture of form and haunting beauty. It is an experiment in form as much as in what resides in the heart.
--Julie Brooks Barbour

Julie Brooks Barbour is the author of Small Chimes (Aldrich Press, 2014) and two chapbooks: Earth Lust (Finishing Line Press, 2014) and Come To Me and Drink (Finishing Line Press, 2012). Her poems have appeared in Waccamaw, Four Way Review, diode, storySouth, Prime Number Magazine, burntdistrict, The Rumpus, Midwestern Gothic, Blue Lyra Review, and Verse Daily. She is co-editor of the journal Border Crossing and an Associate Poetry Editor at Connotation Press: An Online Artifact. She teaches composition and creative writing at Lake Superior State University.

Also by Julie Brooks Barbour:

Review of Unexplained Fevers by Jeannine Hall Gailey

Review of A Face to Meet the Faces: An Anthology of Contemporary Persona Poetry
Review of Fire on Her Tongue: An Anthology of Contemporary Women's Poetry

Review of Hagar Before the Occupation / Hagar After the Occupation

Review of She Returns to the Floating World by Jeannine Hall Gailey