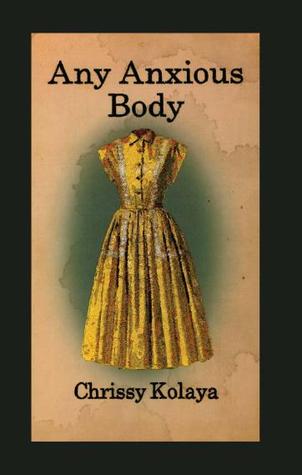 Any Anxious Body
Chrissy Kolaya
Broadstone Books
2014
83 pages

Chrissy Kolaya's debut collection fits its spectacular title as themes of violence and familial tension surface in the opening pages. The title of the first section, "Overheard," signifies the gathering of secrets that starts early in these poems. In "First Memory, 1954," there are sirens and panic, and a boy watches the women "who lay their hands / on the arms of their men, // hands that say: / slow / and think." Kolaya's speaker throughout wants the reader, too, to not only stop and think, but observe. These are resonant poems that command us to look closer at each detail.

In the second section, "A Privileged Life," the poems center around the privilege of a home and a person's memories. The kitchen serves as a repeated setting. Other settings include a bar, grocery store, and summer house. The speaker throughout often watches from a distance, and the omniscience here suggests that the "you" in these poems is watched by past generations, like this moment in "July 4:"

They rain down upon the roof
and she imagines fire,
imagines fleeing this building, burning.
The explosions crack and boom through the small hours.
You sleep
while she drifts
in and out.

Past generations are central to the third section, "A Reckoning," when a grandmother and great-grandmother communicate alternately. What is so magical here is Kolaya's ability to create a space for these women to talk to one another despite their inability to do so in the space of this book, both of them having died. "Found" begins: "In 1957, as she lay in a hospital bed dying, unable to speak, / my great-grandmother communicated with her family / through scribbled messages on a small pad of paper." Not only does Kolaya's speaker continue this legacy of determined communication in this retelling, but another layer develops: "her daughter wrote a twenty-page letter to her / own four children." The rest of this section, the longest of the book, is stripped down, communicating the privilege of the great-grandmother's life and its eventual unraveling. "A Reckoning" shines, constantly propelling the reader's attempt to piece together a family history.

One of my favorite poems in this collection, "Live All Nude," comes from the fourth section, "A World Familiar / Unfamiliar." The dual tension in this poem is breathtaking, shifting from a woman who strips in front of a group of men and one woman, that one woman being a girlfriend who agreed to go along. The woman stripping watches the woman spectating and makes this observation: "the women's eyes watch pieces / of pieces, / a dimple / a scar." When the female spectator slowly begins to lose her cool, it is because of "the crotch / figure-eighting in front of their table," and she knows "it's her job / to show / no insecurity." The bond between these women is far deeper than whatever they share with the men jeering nearby. These women share similar nakedness and try not to show their nervousness to one another because, however distantly, they have to protect one another.

Nervousness becomes paramount in the opening of the final section, "Diagnoses:"

Her father tells her one night—
I got news for you, kid.
You're not getting off this planet alive.
Words
with which
any anxious body
might find solace.

It is the discovery of knowledge here and throughout this book that both stops the heart and provides relief. In some way, the speaker in Any Anxious Body is always gathering knowledge, whether that knowledge contains the most vulnerable images of another woman's life or the medical reality of a brain tumor in the final pages. Kolaya writes about the knowledge that changes us, and how fear makes us more alive while, ultimately, it even comforts us.
--Sarah Dravec
Sarah Dravec is a graduate student in the NEOMFA in Akron, Ohio, where she studies poetry. She is a poetry editor for Barn Owl Review. Her work has appeared or is forthcoming in And/Or, Blast Furnace, Bone Bouquet, Dressing Room Poetry Journal, *82 Review, and others.
Also by Sarah Dravec:

Review of My Funeral Gondola by Fiona Sze-Lorrain

Review of The Forever Notes by Ethel Rackin

Review of Glass Armonica by Rebecca Dunham

Review of Vivarium by Natasha Sajé