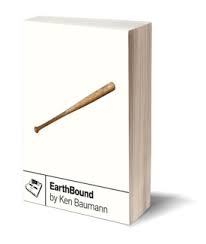 Earthbound
by Ken Baumann
Bossfight Books
206 pages
Note: This is the first in a series of reviews of Bossfight Books's line of videogame based essays and memoirs.
Ken Baumann's Earthbound is the first in a new series of books about videogames from Bossfight Books. As the name indicates, the subject of the book is the 1994 Super Nintendo game Earthbound, but this isn't merely a strategy guide or an extended walkthrough. Originally pitched as the videogame counter to the musical album centered 33 1/3 series, Bossfight Books was smart to position this as their first book in a line of many to come (they are now up to nine). Baumann uses Earthbound as a launch pad to both his past and current life. Bits of significant gameplay and nostalgia seep through, but the central focus of the book—like any good creative nonfiction—is the author.

And Baumann has a lot to talk about. There is attention paid to his work as a child actor and the lucrative and demanding life that comes from moving to LA and living in a disreputable apartment filled with other child stars. These moments act as a sort of behind the scenes look, almost a stab at the celebrity memoir, but the book is more ambitious than just dishing out gossip and referencing Ernest Scared Stupid. Baumann's prose is fluid and allows him to move from discussions of the differences between Japanese and American food to long meditations on the color blue, the intentional evocation of nostalgia, or the perils and pleasures of growing up with a brother. It is these diversions that move the book beyond its gaming roots and into a bigger space that can be enjoyed whether the reader has played the game or not.

It isn't always successful though. At times, it seems like Baumann is more interested in relating facts about his childhood than attempting to relate to his audience. The snippets of gameplay feel more like a gamefaqs.com walkthrough than a rumination on mechanics and dynamics. At times, Baumann has too much to work with and is too committed to telling a linear story. He uses the narrative structure of the role playing game Earthbound to organize the book, and moves through his own life in a similar fashion. Events unfold one after another, and there is little room for backtracking or space to breathe and meditate.

While some moments drag, the book is always moving forward and just like a good videogame, it prods the reader forward with its promise of victory. Part of my project in writing this series of reviews, is to analyze the ways in which ekphrasis, and specifically writing about videogames, operates in creative nonfiction. In Earthbound, the author uses the art as a window to view events from his past. From those moments, other cultural touchstones and events come into sharper focus. Baumann's writing represents part of the shift that is happening around videogame writing. In a manner similar to Tom Bissell, Baumann uses a cultural artifact to talk about the world around him, and for the most part, it is a pleasure to listen.
--Jacob Euteneuer
Jacob Euteneuer lives in Stillwater, OK with his wife and two sons where he is a PhD candidate at Oklahoma State University. His stories and poems have appeared in Booth, foothills, and Hobart among others. When he is not busy reading, writing, and teaching, he is playing games with his family.
Also by Jacob Euteneuer:
Review of Danceland by Jennifer Pieroni

Review of Mother Box, and Other Tales by Sarah Blackman

Review of Even Though I Don't Miss You by Chelsea Martin